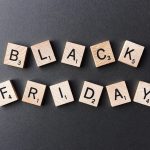 Black Friday is a bit of a crazy experience, with everyone forgetting about how thankful they are on Thanksgiving, and killing each other for the best deal instead. Here, however, is an interesting perspective on Black Friday and on ways to bring much more meaning to the experience. A few of their suggestions include the following.
Only buy things from companies that are giving back to help those in need.
Go Green instead of black by thinking about sustainability.
Look into Giving Tuesday. It's actually a thing – and an important one at that.
Read the full article and see how you can retain that sense of wonder and appreciation over Thanksgiving and give instead of take.