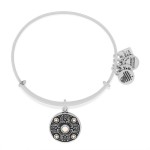 A new bangle by ALEX AND ANI is being rolled out benefiting the American Stroke Association. It will be available on April 20th. The new bangle will be called Wings of Change and every bracelet will donate 20% of the purchase price with a minimum donation of $25,000 to the American Stroke Association between April and December, 2016.
As Mary Ann Bauman, M.D. and chair of the American Stroke Association Advisory Committee said, "One in six of us will have a stroke in our lifetime. This generous gift will help us educate our communities and equip our healthcare professionals so fewer lives are negatively impacted by this disease."
ALEX AND ANI is known for its amazing corporate responsibility as much as it is for its jewelry. This new charm bangle is the company's first that directly supports the American Stroke Association. To date, however, ALEX AND ANI have raised almost $3 million for the American Heart Association since 2012.
As Nicki Maher, the senior vice president of ALEX AND ANI, CHARITY BY DESIGN said, "Having witnessed the effects of stroke first hand, we are honored to support the much needed awareness surrounding the doctors, patients, and family members who rely on funding to create life-saving changes in stroke and heart health. Through the Wings of Change bangle, ALEX AND ANI hopes to remind supporters of the resiliency that can be found in life's beautiful transformations."