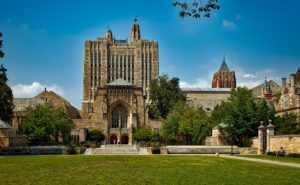 University alumni often make generous donations to their colleges.  At Princeton for example, it was found that approximately 60% of graduates donate back to the university.  According to Kaitlin Mulhere, in 2015 the  numbers for charitable donations to colleges peaked at $40.3 billion (resulting in an increase of 7.6 from the 2014 fiscal year).
Sometimes universities are privy to an extremely large donation from just one individual.  That was the case in 2010 with alumni Zhang Lei who pledged $8,888,888 to the Yale School of Management.  Lei – who graduated with an MBA and an MA in International Relations from the educational institute in 2002 – donated this money to help with the construction of the school's new campus.  Zhang Lei's donation is the largest single sum Yale ever received from an alumni.  Other ways the money from Lei was used was to fund China-related activities at the University and to support an international relations scholarship.
With Lei's donation to Yale, according to University President Richard Levin, "a significant step toward the realization of SOM's new campus" was taken.  Levin also called the donation a "truly extraordinary and auspicious gift [which] reflects the deep commitment to Yale that Lei Zhang shares with so many fellow graduates of the School of Management."
Those who become successful in business seem to want to give back to their colleges.  Matt Schifrin in an article he wrote in Forbes a few months ago, said that "The best colleges produce crop after crop of successful graduates that show their appreciation by giving back in the form of donations to their beloved Alma mater."
It seems that people don't forget their college years, no matter how much time has passed.  For example, 1953 CSU College of Engineering graduate Walter Scott Jr. just donated $53.3 million.  According to university president, Tony Frank, this donation – the largest in the school's history – will allow the College of Engineering (which will be renamed the Walter Scott Jr. College of Engineering) to "attract and support the finest faculty and students for years to come."
And then earlier this month Alumni Grove hosted its 2nd annual Day of Giving, during which it received $132,225 from 1,044 donors, again indicating that university graduates like to give back to their educational institutions.